10 deadliest earthquakes of 20th century and onward.
August 9, 2017
01. Tangshan, China, (July 27, 1976):
It is considered to be the world's worst and deadliest earthquake of 20th century. It hit Chinese region of Tangshan, on July 27, 1976. Its magnitude was 7.5 and it caused 655,000 deaths and 260,000 injuries.
02. Sumatra, Indonesia, (Dec. 26, 2004):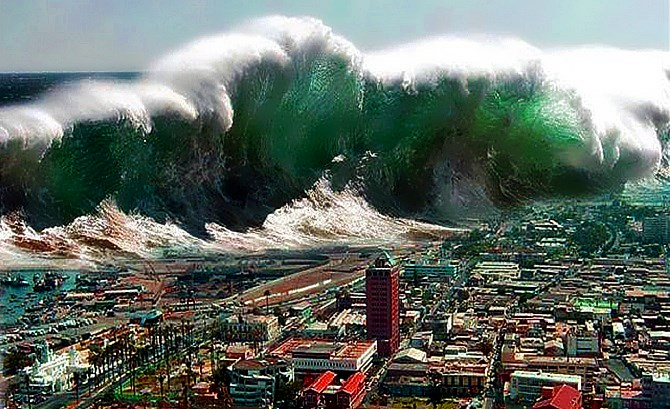 This was the second largest earthquake in the world since 1900 and the largest since the 1964 Prince William Sound, Alaska temblor. In total, 227,898 people were killed or were missing and presumed dead and about 1.7 million people were displaced by the earthquake and subsequent tsunami in 14 countries in South Asia and East Africa. (In January 2005, the death toll was 286,000. In April 2005, Indonesia reduced its estimate for the number missing by over 50,000.)
03. Haiti, (Jan 12, 2010):
Its Magnitude was 7.0. According to official estimates, 222,570 people killed and millions were injured. According to official estimates, 300,000 were also injured, 1.3 million displaced, 97,294 houses destroyed and 188,383 damaged in the Port-au-Prince area and in much of southern Haiti. This includes at least 4 people killed by a local tsunami in the Petit Paradis area near Leogane. Tsunami waves were also reported at Jacmel, Les Cayes, Petit Goave, Leogane, Luly and Anse a Galets.
04. Haiyuan, Ningxia , China, Dec. 16, 1920:
It was terrible and extremely deadly earth quake of magnitude 7.8 magnitude, which brought  about 200,000 deaths. This earthquake brought total destruction to the Lijunbu-Haiyuan-Ganyanchi area. Over 73,000 people were killed in Haiyuan County. A landslide buried the village of Sujiahe in Xiji County. More than 30,000 people were killed in Guyuan County. Nearly all the houses collapsed in the cities of Longde and Huining. About 125 miles of surface faulting was seen from Lijunbu through Ganyanchi to Jingtai. There were large numbers of landslides and ground cracks throughout the epicentral area. Some rivers were dammed, others changed course.
05. Kanto, Japan, (Sept. 1, 1923):
06. Ashgabat, Turkmenistan, (Oct. 5, 1948):
This earthquake was of 7.3 magnitude, and brought about 110,000 deaths. This quake brought extreme damage in Ashgabat (Ashkhabad) and nearby villages, where almost all the brick buildings collapsed, concrete structures were heavily damaged and freight trains were derailed. Damage and casualties also occurred in the Darreh Gaz area in neighboring Iran. Surface rupture was observed both northwest and southeast of Ashgabat. Many sources list the casualty total at 10,000, but a news release from the newly independent government on Dec. 9, 1988, advised that the correct death toll was 110,000. (Turkmenistan had been part of the Soviet Union, which tended to downplay the death tolls from man-made and natural disasters.)
07. China, Bangladesh, Taiwan, Thailand and Vietnam (May 12, 2008):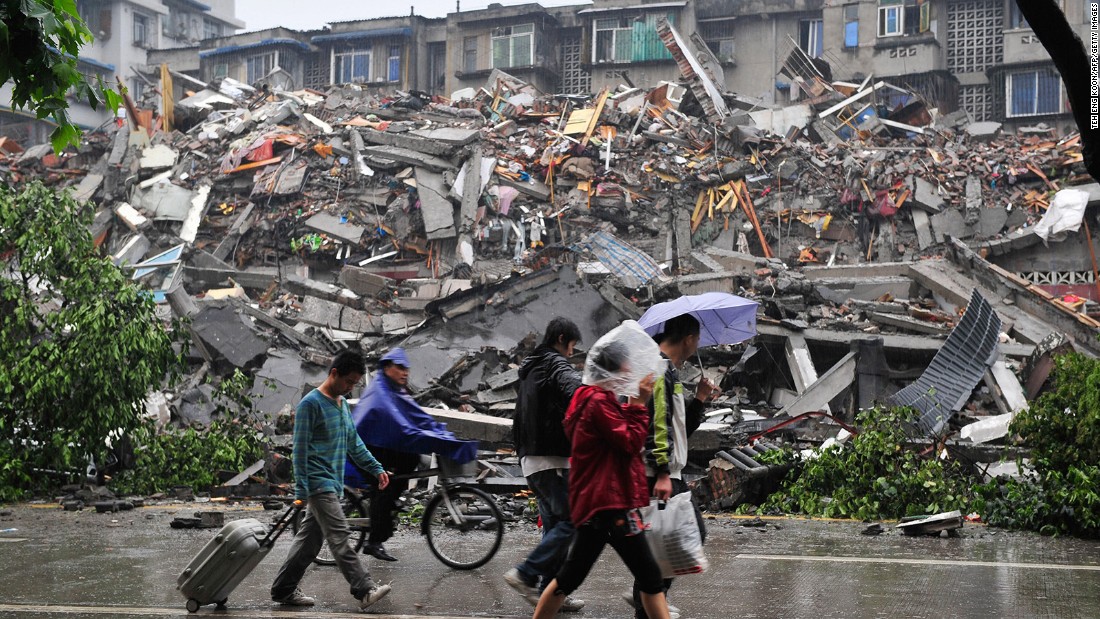 An earthquake of 7.9 magnitude which struck Sichuan; China, Bangladesh, Taiwan, and Vietnam. More than 87,587 people were thrown into the gorge of death.
08. Pakistan; (October 08, 2005):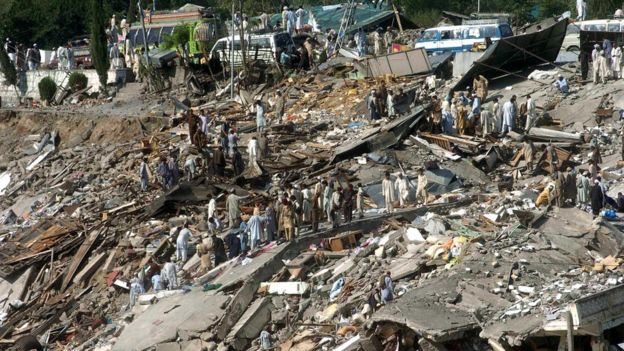 This was a most terrible earthquake in the history of Pakistan, after earthquake of 1935 which struck Quetta City of Balochistan, Pakistan. Earthquake of 2008 main hit the northern area of Pakistan including mainly Islam Abad, and Muzaffar Abad. In this earthquake more than 86,000 people were killed.
09. Messina, Italy; (December 28, 1908):
This earthquake hit Messina region of Italy in 1908. The magnitude of this earthquake was 7.3. It killed about 72,000 people and brought tens of thousands of injuries. This earthquake also caused a Tsunami which covered most part of the Sicily Island.
10. Chimbote, Peru (1970):
It is considered as world's most terrific and deadliest earthquake in the world, which hit Chimbot region of Peru. In this earthquake more than 70,000 people were killed.