Top 10 best 9mm pistols in the world in 2017:
July 15, 2017
9mm Pistols means the pistols which use cartridges which have a bullet caliber in the 9-millimeter range. The most prevalent of these rounds is the 9×19mm Parabellum.
Length refers to the round case length.
OAL refers to the overall length of the loaded round.
Here are the world's top ten 9mm handguns. 
10. Taurus PT 92:
The Taurus PT92 is a double action/single action, 9×19mm Parabellum, double-stack magazine, semi-automatic, short recoil action pistol manufactured by Taurus in the former Beretta factory in São Paulo, Brazil. This stainless steel Taurus PT 92 model is amazing. It happens to be a clone of the Beretta 92, but it as good as the original. In fact, some good improvements have been made by Taurus to the design. It has tack-driver, 5" barrel. This is a very high quality 9mm pistol, regardless of what Beretta snobs might say, and it is also economical and pretty.
Price of Taurus PT92 is ranging from USD450 to USD499.
9. Beretta 92FS (Commercial):
Beretta has many varieties but most famous among these is Beretta 92FS. The Beretta 92FS has been setting the standards for best military, police and tactical pistol for over a quarter century. The reason is that it was designed–and has kept evolving–to be and remain the most accurate, durable and reliable semiauto handgun on the market. Easy to use, absolutely safe and delivering impressive firepower, it remains the sidearm of the US military and of allied forces the world over, as well as of countless police and law-enforcement agencies.The Beretta 92FS performs excellently on the range. The 45 ACP 1911 service pistol was replaced by this one. Also known as the M9, this pistol has been most tested ever since the M1911-A1. The U.S. Military and police officers have been using it for quite some time. This pistol has a very solid design and it shoots much better than many other 9mm pistols.
Price of Beretta 92 FS  is USD569-USD609.
8. Walther P99 AS:
The Walther P99 is a semi-automatic pistol developed by the German company Carl Walther GmbH Sportwaffenof Ulm for law enforcement, security forces and the civilian shooting market as a replacement for the Walther P5and the P88. The P99 and its variants are also made under licence by Fabryka Broni Radom. The Walther P99 has really good grips that make this 9mm pistol feel like it belongs in one's hand. For a striker fired gun, it has an excellent trigger and deserves a 9/10 rating. In SA mode, the trigger will feel crisp and short like that of a 1911 combat pistol. The P99 AS excellently feeds ammo without any jams.
Price of Walther P99 AS is USD568-USD610
7. Glock 17 Gen 4: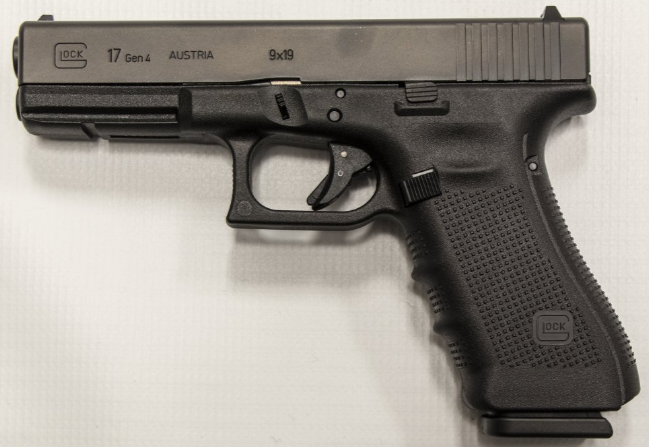 The Glock pistol, sometimes referred to by the manufacturer as a Glock "Safe Action" pistol and colloquially as a Glock, is a series of polymer-framed, short recoil-operated, locked-breech semi-automatic pistols designed and produced by Glock Ges.m.b.H., located in Deutsch-Wagram, Austria. It entered Austrian military and police service by 1982 after it was the top performer on an exhaustive series of reliability and safety tests.
Out of the Glocks out there, the Gen 4 ones shoot the best. The 3 backstrap are the biggest selling feature of the Gen 4 series that are designed to fit various hand sizes. Thus, the Glock 17 molds right into the hand. The Glock also features very good range performance and a trigger that is quite acceptable for combat.
Price of Glock 17 Gen 4 is  around USD528-USD565.
6. FN Herstal FNX-9:
The FN Herstal FNX-9 features an ergonomic, polymer frame with a low-bore axis for less felt recoil and improved control. The grip panels are checkered and ribbed for comfortable, no-snag carry. Two interchangeable backstrap inserts quickly adapt the FNX™ to your hand size. The profiled stainless steel slide has cocking serrations front and rear, and the 4-inch cold hammer-forged stainless steel barrel delivers pinpoint accuracy. Ambidextrous operating controls make this handgun perfect for competition or personal defense.
The US-made FN Herstal FNX-9 happens to be an upgraded version of the FNP-9, which was among the best holster guns available. Rumor has it that the FNX-9 could end up taking the place of the Beretta M9 in the US military. The DA/SA trigger of this 9mm pistol has a decocker safety. The FNX-9 feels very good in the hand and grip fitment can also be changed.
Price of FN Herstal FNX-9 is about USD539-USD568
5. Baby Eagle II BE9915R:
The "Baby" of the Desert Eagle family offers an excellent handgun value and plenty of firepower. The grip design is exceptionally comfortable and well liked by shooters. Since 2008 the Baby Desert Eagle was no longer imported into the US, however beginning again in 2011 with the acquisition of Magnum Research by Kahr Arms we are excited to bring this popular firearm back to the US market.
Trigger action of the Baby Desert Eagle pistol is double action/single action (DA/SA) and is available in three popular calibers (9mm, .40 S&W, .45 ACP) and several barrel lengths. The Baby Desert Eagle pistol is available in either a steel frame or a polymer frame with a black finish. The steel frames and slides are produced from high quality carbon steel with an attractive matte black oxide finish. Full size and semi-compact models feature a tactical rail for optional lasers and/or flashlights.
This all steel MRI Baby Desert Eagle has a 4.53" barrel and can be handled exactly like the CZ 75, but it more solid. It has a heavy, strong feel and shoots very impressively. Along with a solid feel, it also has a good trigger, which makes the BE9915R an excellent double-tap pistol. The BE9915R is not a clone of CZ and is built to be long-lasting.
4. SIG Sauer P226:
The SIG Sauer P226 is a full-sized, service-type pistol made by SIG Sauer. It is chambered for the 9×19mm Parabellum, .40 S&W, .357 SIG, and .22 Long Rifle. It is essentially the same basic design of the SIG Sauer P220, but developed to use higher capacity, double stack magazines in place of the single stack magazines of the P220. The P226 itself has spawned further sub-variants; the P228 and P229 are both compact versions of the double stack P226 design. The SIG Sauer P226 and its variants are in service with numerous law enforcement and military organizations worldwide. The SIG P226 happens to be a service-type pistol uses staggered-column magazines of a higher capacity unlike the single-column magazines that are used by the P220. Much like other SIG Classic pistols, the P226 operates by short-recoil locked breech method. The frame also has a decocking lever incorporated on the side and a number of law enforcement officials have been using it.
Price of SIG Sauer P226 is about USD898 – USD1,100
3. EAA Witness Elite Match:
European American Armory is a matchless handgun. Witness Elite Match 9mm 4.75 Inch Polygonal Barrel Two Tone Finish 18 Round. Match grade polygonal rifled barrel, single action trigger with over travel stop, adjustable rear sights, interchangeable front sight posts, extended safety, extended magazine release, hart shaped hammer and custom two tone finish.
It is believed by many that the Witness Elite Match is not a carry pistol, but is rather a borderline race gun. However, that is not exactly true because it is a premium shooter that is available for a decent price. Merely with a thumb safety, this is a high-quality single action 9mm pistol. It also has a very good SA trigger and can be carried cocked.
Category : Pistols
Type : Pistol
Action : Single
Caliber : 9mm
Barrel Length : 4.8″
Capacity : 17+1
Safety : Manual
Grips : Black Synthetic
Sights : Adjustable
Weight : 44 oz
Frame Finish : Stainless
Price of EAA Witness Elite is around USD578-USD615.
2. Springfield XDm 4.5″: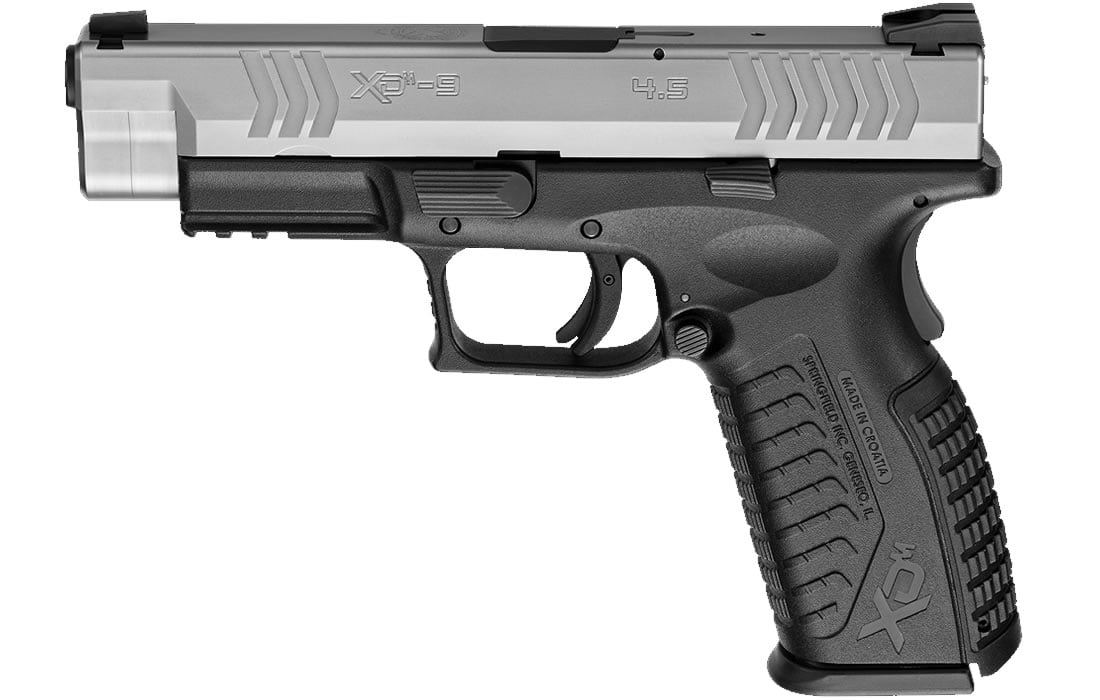 In a market dominated by tiny handguns, there's a certain bravado that comes with not only owning, but carrying a pistol that weighs over two pounds loaded, and packs twenty rounds at the ready. It takes some getting used to at first. You stare at your friends salivating over the GLOCK 43 and ask why they'd want to carry a third(ish) the ammo you do. They stare back, hollow eyed.  You grow even more concerned with their desire to try to get a good grip with but a few fingers when they could easily maintain a two-handed kung fu grip with the gun you carry. It's a weird world out there once you start carrying the XD(m) 4.5 chambered in 9mm. For lack of a better term, the XD(m) is just a big gun. There's really no skirting the fact. It is a decidedly full sized handgun. Carrying it around requires a sturdy belt and a good holster. Unless you wear a billowing shirt, this thing prints like crazy, but at some point you stop caring. It's a dream to shoot as all that weight and size absorbs what little recoil 9mm puts out. But make no mistake, it is svelte in all the right ways too.
In comparison to the standard model, this Springfield XDm 4.5″ is available at quite a bargain since it can be purchased for only USD100 extra and for the new one around USD570. When shooting the XDm, it will never feel like a DOA striker fired pistol is being fired. In fact, it deserves to be classified as a single action 9mm pistol, or at least that is what it feels like
Price of Springfield XDm4.5" is USD565-USD625.
1. CZ 75 SP-01:
World's top class pistol is CZ 75 SP-01 which is  made by Česká zbrojovka Uherský Brod (CZUB) in the Czech Republic that has both semi-automatic and selective fire variants. First introduced in 1975, and was first produced in 1976.  It is one of the original "wonder nines" featuring a staggered-column magazine, all-steel construction, and a hammer forged barrel. It is widely distributed throughout the world. It is the most common handgun in the Czech Republic. The CZ 75 SP-01 has been going strong quite some time now. It happens to be an improved version of the CZ 75b. The SP-01 has shocked the world of combat shooting time and time again. The SP-01 is currently unmatched and that is why it belongs at the top of any list of the best 9mm pistols.
The price of CZ 75 SP-01 is USD615-USD660.