Top 10 car manufacturing companies
July 31, 2017
When we talk about world fastest cars or world most expensive cars the concept of automobile companies erupts in our mind, because the performance of a car is actually the performance of the manufacturer which made it. This article is about world top 10 leading car manufacturing companies, which have maintained their reputation since decades. These companies are invincible in giving best output with minimum cost.
10. BMW Group: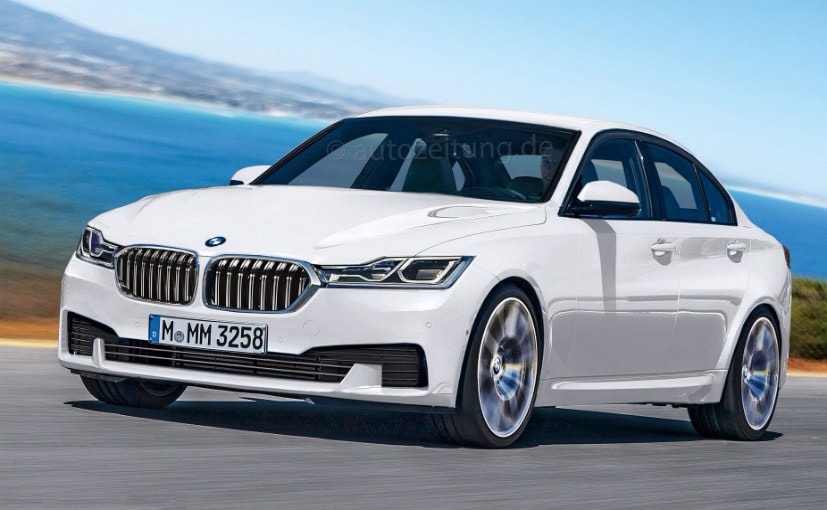 Bayerische Motoren Werke AG, usually known under its abbreviation BMW, is a German luxury vehicle, motorcycle, and engine manufacturing company founded in 1916. It is one of the best-selling luxury automakers in the world. For 100 years, the BMW Group has been inspiring people worldwide with unique mobility experiences. The special fascination of the BMW Group lies not only in its products and technology, but also in the company's history, written by inventors, pioneers and brilliant designers. Today, the BMW Group, with its 31 production and assembly facilities in 14 countries as well as a global sales network, is the world's leading manufacturer of premium automobiles and motorcycles, and provider of premium mobility and financial services. Constantly evolving to stay a decisive step ahead has always been the intent guiding the BMW Group's thinking and actions as a company.
Owner:
Stefan Quandt (29%); Susanne Klatten (21%); Public float (50%)
Headquarters: 
Munich, Germany
Production output:
2,512,635 vehicles (2016)
09. PSA Peugeot Citroen:
Groupe PSA is a French multinational manufacturer of automobiles and motorcycles sold under the Peugeot, Citroën, DS Automobiles, Opel and Vauxhall Motors brands. With sales and revenue of €54 billion in 2016, the Groupe PSA designs unique automotive experiences and delivers mobility solutions that provide freedom and enjoyment to customers around the world. The Group has three car brands, Peugeot, Citroën and DS, as well as a wide array of mobility and smart services under its Free2Move brand, to meet the evolving needs and expectations of automobile users. The automobile manufacturer PSA is the European leader in terms of CO2 emissions, with average emissions of 102.4 grams per kilometre in 2016, and an early innovator in the field of autonomous and connected cars, with 2.3 million such vehicles worldwide.
Traded as:
Euronext: UG; CAC 40 Component
Production output:
5.8% 3,146,382 units (2016)
CEO:
Carlos Tavares: (31 Mar 2014–)
Headquarters:
Paris, France
08. Honda Motor:
Honda Motor Co., Ltd. is a Japanese public multinational conglomerate corporation primarily known as a manufacturer of automobiles, aircraft, motorcycles, and power equipment. Honda Motor Co., Ltd. engages in the manufacture and sale of automobiles, motorcycles, and power products. It operates through the following segments: Automobile, Motorcycle, Financial Services, and Power Product and Other Businesses. The Automobile segment manufactures and sells automobiles and related accessories. The Motorcycle segment handles all-terrain vehicles, motorcycle business, and related parts. The Financial Services segment provides financial and insurance services. The Power Product and Other Businesses segment offers power products and relevant parts. The company was founded on September 24, 1948 and is headquartered in Tokyo, Japan.
07. Fiat-Chrysler: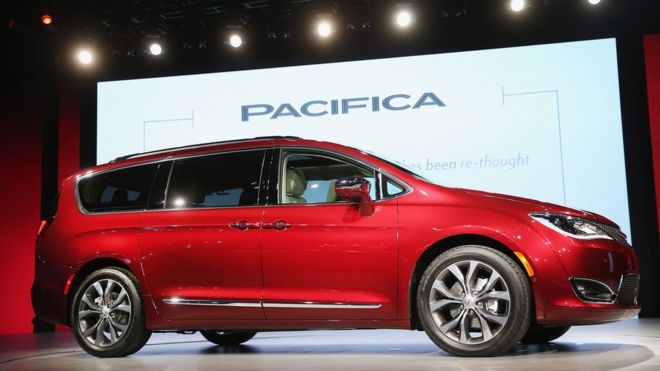 Fiat Chrysler Automobiles NV, also known as FCA, is an Italian-controlled multinational corporation incorporated in the Netherlands, and currently the world's seventh-largest auto maker. FCA designs, engineers, manufactures, distributes and sells vehicles under the Abarth, Alfa Romeo, Chrysler, Dodge, Fiat, Fiat Professional, Jeep, Lancia, Ram, SRT brands as well as luxury cars under the Maserati brands. FCA also operates in the components sector, through Magneti Marelli and Teksid, and in the production systems sector, through Comau and in after-sales services and products under the Mopar brand name. In addition, the Group provides retail and dealer finance, leasing and rental services in support of the car business through subsidiaries, joint ventures and commercial agreements with specialized financing services providers. FCA is an international auto group engaged in industrial activities in the automotive sector through companies located in 40 countries and has commercial relationships with customers in approximately 150 countries.
Stock price:
FCA 

(BIT)

 €10.20 +0.04 (+0.39%)
31 Jul, 5:35 PM GMT+2 – Disclaimer
CEO: 
Sergio Marchionne (Jun 2009–)
Revenue:
111 billion EUR (2016)
06. Ford Motor:
The Ford Motor Company is an American multinational automaker headquartered in Dearborn, Michigan, a suburb of Detroit. It was founded by Henry Ford and incorporated on June 16, 1903.
Stock price:
F 

(NYSE)

 US$11.18 +0.01 (+0.09%)
31 Jul, 12:31 PM GMT-4 – Disclaimer
Revenue:
151.8 billion USD (2016)
Headquarters:
Dearborn, Michigan, United States
05. Hyundai-Kia: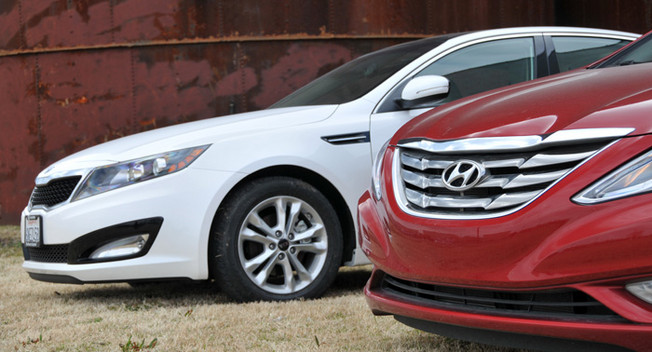 Kia and Hyundai are both car makers that originated in South Korea, and as a result of Kia's bankruptcy in 2007 Hyundai now owns a part of their company. Many of the comparable models of each car maker share the exact same body structure as a result. However, Kia does still operate independently and has a separate design workshop, marketing, and branding.
When it comes to practical differences, here are the main distinctions:
Design. Hyundai uses a curvy, flowing body structure and luxury interior while Kia aims for a sportier look to appeal to a younger generation.
Demographics. The design and luxury interior of Hyundai cars are aimed at an older age group who want great value and quality at affordable prices, while the sporty design and lower-priced cars are targeted to a much younger crowd.
Console system. Hyundai's Blue Link interior console system is designed for the convenience of the driver and how they can operate the vehicle, while Kia's UVO system appeals to sporty-minded drivers by focusing on the vehicle and its performance or maintenance.
Outlook. Hyundai has been established in Canada and North America for much longer than Kia, and as a result is a higher end brand. Kia, however, is one of the fastest growing car brands as it gains a foothold in Canada by appealing to younger drivers.
04. Nissan-Renault Group:
Renault–Nissan Alliance is a Franco-Japanese strategic partnership between automobile manufacturers Renault, based in Paris, France, and Nissan, based in Yokohama, Japan, which together sell more than 1 in 10 cars worldwide.
Headquarters:
Amsterdam, Netherlands
Key person:
Carlos Ghosn (Chairman and CEO)
Parent organizations:
Renault, Nissan
Founders:
Louis Schweitzer, Yoshikazu Hanawa
Signed on March 27, 1999, the Renault-Nissan Alliance has built a unique business model that has created significant value for both companies. For over 15 years, employees at Renault and Nissan have worked as partners with an attitude of mutual respect and company pride while keeping brands and corporate identities.
03. Volkswagen Group:
02. General Motors:
General Motors Company, commonly known as GM, is an American multinational corporation headquartered in Detroit, Michigan, that designs, manufactures, markets, and distributes vehicles and vehicle parts, and sells financial services.
Stock price:
GM 

(NYSE)

 US$35.98 +0.20 (+0.57%)
31 Jul, 12:26 PM GMT-4 – Disclaimer
CEO: 
Mary T. Barra (15 Jan 2014–)
Headquarters:
Detroit, Michigan, United States
Revenue:
166.3 billion USD (2016)
Founded:
16 September 1908, Flint, Michigan, United States
Subsidiaries:
Chevrolet, Opel, GMC, Vauxhall Motors, ACDelco,
Founders:
William C. Durant, Charles Stewart Mott
General Motors has played a pivotal role in the global auto industry for more than 100 years. From the first Buick horseless carriages to technological marvels like the Chevrolet Volt, their products and innovations have always excelled at putting the world on wheels.
In 1923, GM decided to establish a proving ground. It was to be the place where all types of cars were tested and compared, a place where independent tests could be conducted by resident engineers free from the problems of design and production.
Shops and garages were built to house and maintain hundreds of test cars. There were living quarters for the staff of resident and visiting engineers. A feature of the equipment at this station was the only device in existence for making instantaneous record of wind velocity. Then this advancement continued for more than 100 years and GM is manufacturing new and modern style cars supplying all through the world.
01. Toyota Motor:
Toyota is world leading automobile manufacturing company. Toyota Motor Corporation is a Japanese multinational automotive manufacturer headquartered in Toyota, Aichi, Japan. Japan. In March 2014, Toyota's corporate structure consisted of 338,875 employees worldwide and, as of October 2016, was the ninth-largest company in the world by revenue. As of 2016, Toyota is the world's second-largest automotive manufacturer behind German Volkswagen Group. Toyota was the world's first automobile manufacturer to produce more than 10 million vehicles per year which it has done since 2012, when it also reported the production of its 200-millionth vehicle. As of July 2014, Toyota was the largest listed company in Japan by market capitalization (worth more than twice as much as #2-ranked SoftBank) and by revenue.
Stock price:
7203 

(TYO)

 JP¥6,234 +6.00 (+0.10%)
31 Jul, 3:00 PM GMT+9 – Disclaimer
Headquarters:
Toyota, Aichi Prefecture, Japan
CEO:
Akio Toyoda (23 Jun 2009–)
Revenue:
28.4 trillion JPY (2016)
Subsidiaries:
Lexus, Subaru Corporation, Daihatsu, Hino Motors, 

MORE
Parent organization:
Toyota Industries